Age 3-10
Italian Summer Camp 2023 (Brooklyn)
We are ready to spend the summer with your child(ren), whether online or in person. Let's discover the beauties of Italy and Italian Culture through fun and educational activities, including cooking! This is a bilingual camp but no prior knowledge is required as we will be alternating languages when needed.

Who said that one cannot learn while having a good time? Let's make friends, discover Italy and learn together! We are a team of professional instructors who are passionate and dedicated to teaching and who believe that a new adventure should always start from a safe space where every child can be him/herself
REGISTRATIONS ARE NOW OPEN!
JUNE 19  TO AUGUST 25
WHY US?
Our teaching method is anchored in the Common European Framework of Reference and is driven by an educational method that is the result of a decade of experience in the field. The program is designed to actively involve our little students using a wide variety of learning tools to ensure the children have fun while learning through discovery and creativity.
WHAT WE DO
We encourage to experiment with the Italian language through a wide range of engaging activities and start speaking Italian in a very natural way through a multi-sensory and interactive approach. Everything is introduced gradually to meet all children's needs. Weather permitting, we will also go to the park to play and enjoy the sun for about 45 minutes.
OUR PROGRAM
The theme of our In-Person Summer Program 2023 is Italian Food. Your child(ren) will participate in a unique experience inspired by the discovery of Italian Culture and Language through Italian Cuisine every day.
It is a 10-week program (June 19 to August 25) with two age groups: 
Group A: 3-5 y/o
Group B: 6-10 y/o
Children will be placed in groups according to their age only during their daily language activity unless the groups can work together on a project.
How does it work? 
The Program runs from 9AM to 5PM (Mon-Fri) but you can also opt for shorter hours [9-11AM/9AM-1PM/9AM-3PM/9AM-5PM] even if we suggest a full-time plan to be able to complete the daily program and goals. 
How many children will be attending? 
We always have small groups of 3-8 children per day which guarantees closer attention to your children and the details of the proposed activities.
What's the daily schedule?
9-11 AM - Italian culture class, playtime, and snack 
9AM-1PM  - Italian time at the playground* to release the energy and play group games. Lunch at school 
9AM-3PM - Development of morning activities and Cooking Class**
9AM-5PM - All the activities above and Story time or Art and Craft
*If weather permits, kids will go to the playground every day for about 45 minutes. While at the park they will always be supervised by the teacher(s) when free. 
** You will be asked to buy some ingredients for the recipe. The teacher will notify you 3 days prior to the class.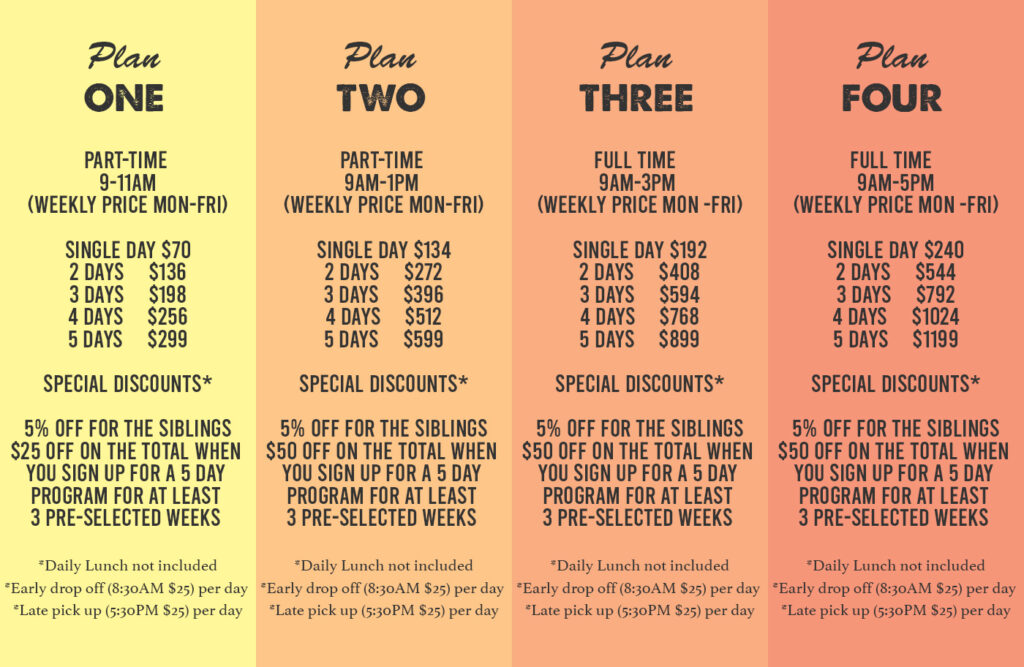 TO SIGN UP: In order to be considered for enrollment we require a two-week notice before the selected days/weeks. Each group has no more than five children per teacher and no less than three. 
EARLY BIRD $50 off when you sign up for a 5-day program for 4 pre-selected weeks before/by April 25th.  The chosen weeks cannot be changed under any circumstances after registration. 
This promo can be associated with our special rate promo but *parents can take advantage of either the sibling discount or the $$$ off, whatever is greater.
Please fill out this form
FOR MORE INFORMATION