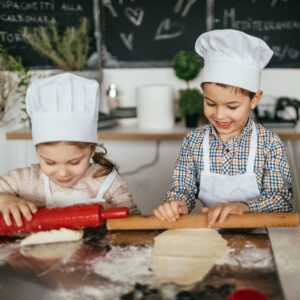 We offer Kids Private Cooking Classes for any occasion for your children!
Depending on what your event is meant for, we can offer mommy & me, drop off (at one of our locations), or off-site Private Cooking Classes for children aged 1 to 16. 
This event can be: 
A cool experience to propose to your group of friends

An addiction activity to your kids' Birthday Party at your location  

A cultural activity to propose in Schools 
Prices and Number of Attendees:
The price starts at $75/pp and is based on the number of attendees. Each event is 90 min long unless you agree on other terms with the administration. 
At our locations: the minimum number of kids to open the event is 4 and the max is 7 for a Mommy and Me Class or 14 for other groups where no caregiver is required
At your location: the max number of kids is 20. If you have more we can create more than one group.
Registration Info: 
The date must be confirmed 15 days prior to the event. 

The number of kids can be changed up to 5 business days before the event.

To confirm the date, we need 4 registrations. For events at our location, we require a $300 deposit that will be refunded on the day of the event. 

Cleaning fee and off-site fee if any are not included.
Contact us for our menu and to discuss pricing options.