If you wish to skip the consular waiting time, you will be able to file your application in Italy by establishing residence in Italy. In order to take advantage of this accelerated program, there will be an additional fee to the fee for either our Full Package or Step by Step Package.
Please note that all the documents need to be in order prior to your departure, therefore you will be free to decide whether to apply in Italy or in the US also when all your documents will be ready.
Applying in Italy is normally faster as you can skip the waiting time at the consulate and file the application. In our professional opinion, you will be able to travel to Italy probably next year.
Cost: 5000-6500€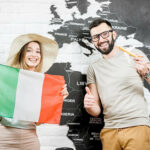 You can apply for Italian citizenship in Rovigo where our partnered Italian office is located (or in a municipality nearby according to the availability) so that we can assist in person through the whole process in Italy. Because of our current workload and because we cannot overwhelm our comune, we do not have any availability until 2023.
Ideally, you should have to stay in Italy for the entire duration of the citizenship process in Italy. The process in Italy generally takes 8-12 months (but may vary depending on the specific case).
If you wish to stay in Rovigo for a shorter period of time, a minimum stay of 4-6 months will likely be required. Please note that if you chose not to stay in Rovigo for the entire duration of the process, after your departure you may be required to go back for one, or more than one, short trip.

We have a network of landlords who work with us on a regular basis, that will allow us to locate the perfect accommodation for you, based on your specific needs. They usually provide long-term agreements with either a 3 or 6 months termination notice depending on the case.

Our landlords generally require a security deposit which will be refunded at the end of the lease agreement. In addition to such a deposit, there could be a real-estate agent fee depending on the apartment. Moreover, utilities will be set in your name. 

We would be arranging the entire process in Italy: from securing an apartment to setting up utilities and dealing with the landlord. We would be assisting you from beginning to end in the process. More specifically:
- we would pick you up at your arrival, and accompany you to your apartment
- we would be assisting you in person, with the obtainment of a tax code, residency, citizenship application, and residency permit application as well as with the AIRE registration and passport application. 
APPLICATION IN A MUNICIPALITY OF YOUR CHOICE
We will guide you remotely step by step in filing your citizenship application. Unfortunately, we are unable to recommend any municipalities (besides Rovigo) since not all the clerks are familiar with the process.
If you decide to file your citizenship application at a municipality of your choice, we would need to get in touch with it beforehand so as to verify they are familiar with citizenship applications. Please bear in mind that should you decide to apply for citizenship through a municipality of your choice, we won't be able to assist you in locating the proper accommodation.